Book a parkour workshop with experienced parkour instructors where safety is a top priority.
As the pioneers of parkour and freerunning in Denmark, we have more than 15 years of experience teaching parkour and freerunning at all levels and ages.

Our vision is to offer you the most engaging, challenging and fun parkour workshop experience.
Parkour, known for its unique blend of physical and mental challenges, is more than just a sport; it's a lifestyle, an art form, and a method of self-development. At JIYO, we understand the deeper meaning of parkour and are dedicated to creating workshops that not only challenge you physically, but also promote personal growth and development.
What can you expect from a Parkour Workshop with JIYO?
At JIYO, we offer parkour workshops tailored to all ages and skill levels. Our team of dedicated and experienced instructors ensure that each participant gets the personalized attention and guidance they need. Let's take a deeper look at what you can expect from a JIYO parkour workshop:
Personalized learning and guidance
Understanding that each participant has unique needs and learning styles is a cornerstone of our philosophy. That's why we offer personalized guidance during our parkour workshops. Our instructors work closely with you to ensure you get the most out of your experience, regardless of your skill level. If there are different levels in your group, it's a good idea to book a minimum of 2 parkour instructors, as each instructor can cater to each group's level and adapt the level so that everyone learns something and has fun while doing so.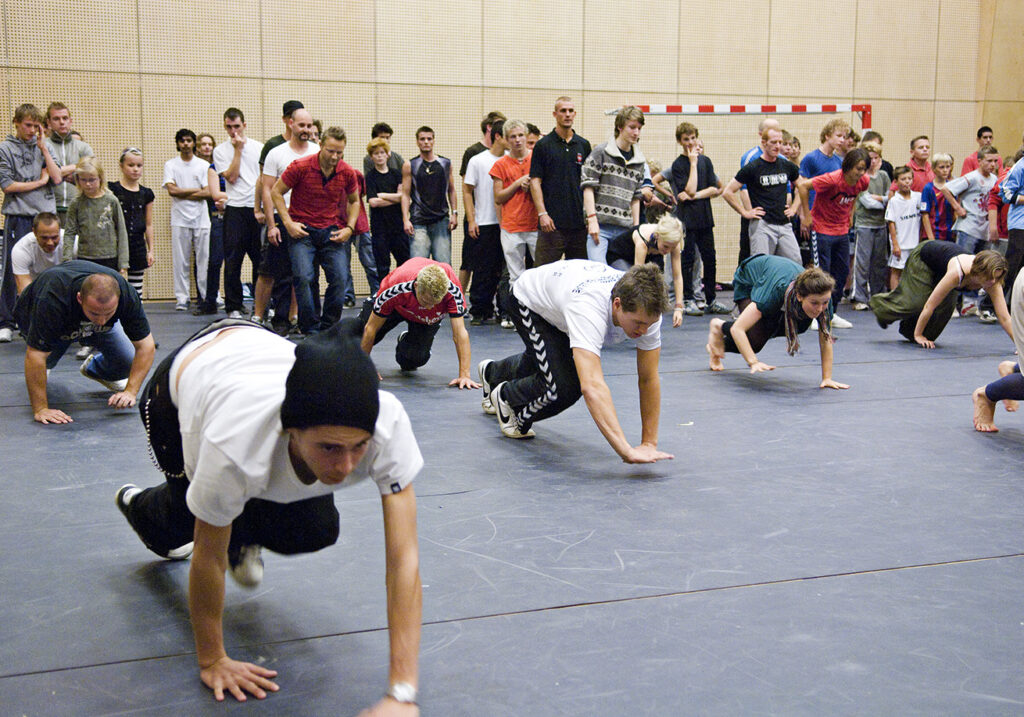 Qualified Parkour Instructors
Our parkour workshops are led by a team of dedicated and qualified instructors. With years of experience in parkour and freerunning, both as practitioners and teachers, our instructors are equipped to give you the best possible learning experience.
We always keep safety top of mind, so we always make sure that participants progress at the pace they are most comfortable with. There's plenty of opportunity to learn a lot of techniques during the parkour workshop, as our instructors have so many years of experience and can easily adapt the classes to different levels.
Safety and wellbeing
Safety is our top priority. All our instructors are certified and instructor trained, and our facilities are designed and maintained with the highest standards of safety. You can trust that your safety and well-being is always our main focus.
Physical and mental challenges
Parkour is a physically demanding form of movement that requires strength, balance and agility. But it's also a mental discipline that requires focus, determination and creative problem solving. Our workshops are designed to challenge both your body and your mind, helping you grow and develop in all areas.

We customize each parkour workshop according to level, number of participants and skill level. We often recommend booking multiple parkour instructors to accommodate different levels that you may have.

If there is a group that is cautious and wants a calm pace, we will customize the classes according to your wishes. Likewise, we can ensure that participants who want more physical and mental challenge are also stimulated.

As always, safety is paramount.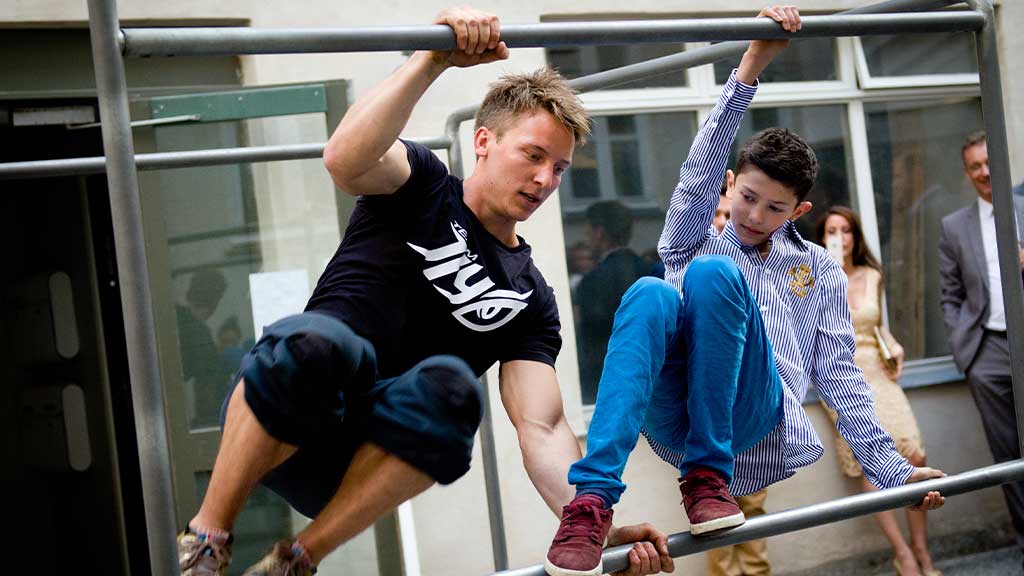 Hire a parkour instructor for your parkour workshop
As specialists in parkour and freerunning, we have taught thousands of people of all ages and levels, always with safety in mind and with a focus on development and having fun at the same time.
We look forward to teaching you parkour in a safe environment.

MC Clemens
Rapper & musician
"Team JIYO are the hottest, best looking and most incredible boys you could ever put in a monkey zoo. My warmest recommendations and thanks for a huge effort in my two latest music videos "Vi Ejer Natten" and "Har Det Godt"

Hadi Ka-Koush
Actor & TV host
"I've been following JIYO for many years - it's INSANE what you have achieved in your field and I have to take my hat off to you for what you manage to accomplish time and time again!"

Jan Gintberg
Comedian
"What you can do is REALLY something else than gymnastics from when I was a boy.....

Crown Prince Frederik
His Royal Highness
"I have had the pleasure of experiencing Team JIYO several times and I have to say that I am really fascinated by the way you move. Some of your techniques are reminiscent of when I was a frogman myself."

Christian Stadil
Director of Hummel
"What makes Team JiYo different from others is that they are so active. And they're smart guys, besides being able to dance, fight and do parkour. Annoyingly multi-talented in a really cool way!"

Bent Fabricius-Bjerre
Musician
"Very nice artist number and very well choreographed!"

Bubber
TV Host
"There's no doubt that Team JiYo are masters of circular kicks and then there's the somersaults!"

Etta Cameron
Musician
"You were incredibly cool and amazing. You get a BIG 5 from me!"

Anders Lund Madsen
Comedian & Commentator
"It's great to see these bodies at play, it makes you want to do parkour!"